Immigration Resident Certificate service
For people living or planning on living in Thailand it might be a good idea to get a hold of a Residency Certificate [TM30] to prove your address in Thailand. A Residence Certificate is an official one-page document that states you are living in Thailand.
The Residency Certificate [TM30] and its underlying laws are about the obligation of a landlord (or house master, possessor, manager) to report the stay of any foreigner (non-Thai national) in his/her property. All foreigners staying in Thailand and their hosts should be very well aware of this.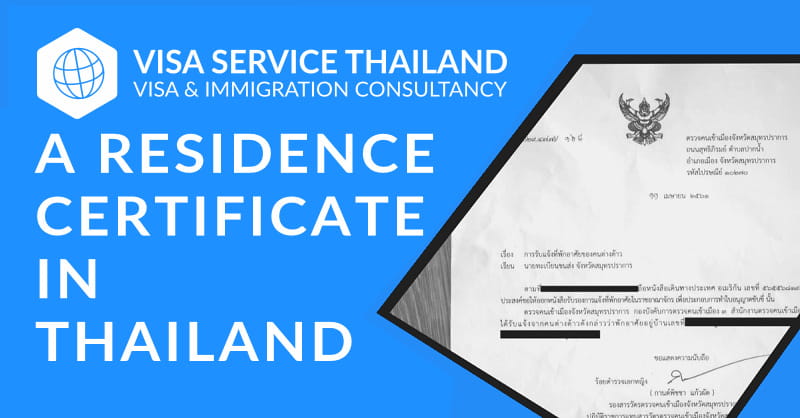 The law with regard to the Residency Certificate [TM30] and the obligation to report a foreigner's stay have been in place for a long time, but the government has started to enforce it more strictly lately, and changed some of the procedures with regards to your 90-days reporting and extension of visa.
Not only it's required by law, but there could be various reasons you might need one, if you want to buy a vehicle in Thailand, get a Thai driver's license, and sign up for a Thai bank account.
Resident Certificate Requirements
Photocopy of lease agreement, blue/yellow house book, letter from the landlord
Photocopy of TM.30 form signed by your landlord
Two 4 cm x 6 cm passport photos (NOT 2 inch x 2 inch)
Actual passport (to confirm authenticity)
Photocopy of the following passport pages: main photo page, visa page, TM.6 departure card (all pages must be signed)
Completed application form of Residence Certificate in Thailand. Blank copies are provided at the immigration office.
Please be advised that you do not need a Residence Certificate, if you have a Thai house registration book (Tabien Baan). This document might be issued to you, if you own a condo in Thailand or in any other cases, as provided by Thai laws.
If something is not clear, or you have questions about the Resident Certificate, don't hesitate and fill out the form on this page!
you might also be interested in