90-day report service
The 90-day report, more officially known as the "Notification of staying in the Kingdom over 90 days."
What Exactly is the 90-Day Report?
As you can probably guess from the name, the 90-day report is a notification given to Thailand's Immigration Department by foreigners who are staying in the country for more than 90 days.
It doesn't matter if you are holding a business visa, education visa, retirement visa, or otherwise... If your stay in Thailand extends beyond 90 days you will have to submit this notification.
As an expat living in Thailand, you will become quite familiar with 90-day reporting because it's not something that you do just once. Rather, it is required of you to submit the notification to Immigration for each 90 day period that you continuously reside in the country.
For example, if you stayed in Thailand for just under a year you would need to report to Immigration three times—at roughly days 90, 180, and 270 of your stay.
If, however, you left the country at any point—such as a weekend trip to see Angkor Wat in neighboring Cambodia—your length of continuous stay would reset to zero. Thus the next report would be due 90 days after you re-enter the country.
Officially, you can report up to 15 days before the due date and up to 7 days after without penalty.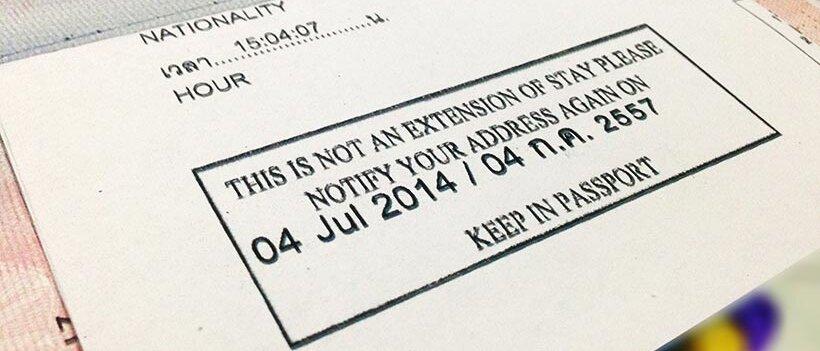 What is the Penalty for Failure to Report?
If for some reason you neglect to notify Immigration for a stay of over 90 days you will have to pay a fine. The standard fine amount is THB 2,000 if you voluntarily admit your error.
If, however, you were arrested for any reason and then found to be under failure to report, the fine amount jumps to THB 5,000. Thereafter, an additional THB 200 will be charged for each day that passes until you comply with the law.
What is the Purpose of 90-Day Reporting?
The government's rationale is that the 90-day reporting assists in law enforcement by being able to monitor the whereabouts of foreigners staying in the country. There are, after all, some criminal elements from other countries who stay in Thailand or pass through from time to time.
In any case, the notification of staying longer than 90 days is just a fact of life for foreigners staying in Thailand. Unless the law changes in the future, it's just something that you have to accept in order to live here.
How to Submit a 90-Day Report
There are 4 methods of completing the 90-day report:
In person at the nearest Immigration Office
By authorizing another person to make the notification at Immigration on your behalf
By registered mail
Online (if the system is working)
Reporting in person
Many expats in Thailand choose to report in person because it's the most straight-forward option, though it's not always the most pleasant experience. It takes valuable time out of your schedule to visit the Immigration Office in person once every three months.
Reporting in person requirements:
Passport
Notification form (TM47)
Copy of passport info page (with photo, name, passport number, etc.)
Copy of current visa
Copy of latest entry stamp
Copy of latest visa extension
Copy of departure card (TM6)
Copy of previous 90-day slip (if any)
Reporting by registered mail requirements:
you are required to mail in signed photocopies of the following documents:
Passport info page (with photo, name, passport number, etc.)
Current visa
Latest entry stamp
Latest visa extension
Departure card (TM6)
Previous 90-day slip (if any)
These need to be submitted together with a completed Notification Form (TM47) and an envelope with your home address and 10 baht postage stamp affixed. This is so you can receive the lower portion of the TM47, which will indicate the date that your next 90-day report is due.
The above documents need to be sent by registered mail at least 15 days prior to your notification due date.
Reporting online
Reporting to Immigration online is, in theory, the most convenient method of all. The system is, however, notoriously unreliable. When first introduced, it required using Microsoft's Internet Explorer browser.
Immigration offices in certain parts of the country reportedly do not process online applications and will require notification by mail or in person.
If you want to try your luck, the official website is HERE.
Let Us Handle it for You
At Visa Service Thailand, we do everything in our power to make life in the Kingdom of Thailand easy for our International customers. Taking care of 90-day reporting is part of this. As our customer you don't have to worry about a thing, and you don't need to waste any of your own precious time dealing with 90-day reports for Immigration.
Anytime you enter Thailand, whether it's your first arrival or returning from a trip abroad, our administration staff will ask to copy the relevant pages in your passport so we can keep track of your 90-day status for you.
Then, usually about 2 weeks prior to your 90-day deadline, you'll get an email from someone in admin checking that you haven't taken an excursion outside the country and setting up a time to meet with you at the office to hand off your passport and get your signature on the necessary documents.
After that, somebody of our staff will go to Immigration and complete the 90-day reporting procedure on your behalf. You'll get your passport back either that afternoon or the following day, and you'll be all set until the next 90 days is up.
you might also be interested in